Since 1934, the Masters Tournament has hosted some of the greatest memories in golf history. The Masters may be the smallest field in major championship golf, but the memories seem to  stack even higher each year. The 2020 Masters Tournament will be the 84th edition of arguably the most notable major in golf. 
Saintnine has put together some of their favorite Masters memories, past and present. 
"Yes Sir!" - Putt from Jack Nicklaus to win 6th Masters Tournament
Video Credit: ESPN
Jack Nicklaus' career was coming to a historic close, no matter what happened at the 1986 Masters. The Golden Bear came into this tournament with 5 Masters victories, but was not going to stop there. Many argue that the 1986 Masters Tournament had some of the most memorable shots in golf history. One of those many shots was the go-ahead birdie putt made on hole 17. The putt was so remarkable that Verne Lundquist, CBS telecaster, blurted out, "Yes Sir!" - even though he says he had never used that expression before. Jack Nicklaus went on to win his 6th Masters Tournament, giving him 18 total major wins. 
A Legend is Born - Tiger Woods' First Victory in a Major Championship
Video Credit: The Masters
Tiger Woods is one of the most recognizable names in sports history. Only 2 golfers in the history of the game have had such a level of dominance when it comes to major championships. Tiger has accumulated 15 major victories throughout his career, a close second to Jack Nicklaus' 18 major victories. 
Tiger's story of success in majors started at the 1997 Masters Tournament. Woods won by a record 12 strokes to bring home his 1st of 5 Masters victories. His fist pump on the green of 18 will go down in history.
A Broken Legend Returns to Winning Form - Tiger returns to win his 5th Masters Tournament
Video Credit: The Masters
Fast forward over 20 years of success to find an injured Tiger who has endured 4 back surgeries and 4 knee surgeries. Many thought after his win at the 2008 U.S. Open he would never capture another major title. "I had serious doubts (about my golf future) after what transpired a couple years ago," Woods said, referring to his back problems. "I could barely walk. I couldn't sit. Couldn't lay down. I really couldn't do much of anything." 
In all 14 of Tiger Woods' previous major wins, he was either tied or in the lead after 54 holes. Tiger rallied back from Francesco Mollinari's 2-stroke deficit to secure his 5th Masters Tournament victory, giving him 15 total major wins. 
Bubba Watson's Wedge from the Woods to Take Down Oosthuizen
Video Credit: ESPN
The 2012 Masters Tournament was jam packed with great shots and competition. Sunday started off with Louis Oostuizen's hole out on #2 for the rarest shot in golf - a double-eagle. 
That double-eagle from 253 yards out, along with great play all day, forced a playoff with Bubba Watson. 
The playoff starts with Bubba Watson pulling his drive off the tee well into the woods. Louis' teeshot was not perfect, but was resting in the first cut. Bubba Watson then pulled off a shot that may never be replicated. Bubba hit a wedge with a miraculous 40 yard hook, that stayed low enough to get under the first trees and then started rising. The shot came to rest about 15 feet from the hole to help him secure his first green jacket. 
A Real Life "Tin Cup" - Tom Weiskopf hits 5 balls into Rae's Creek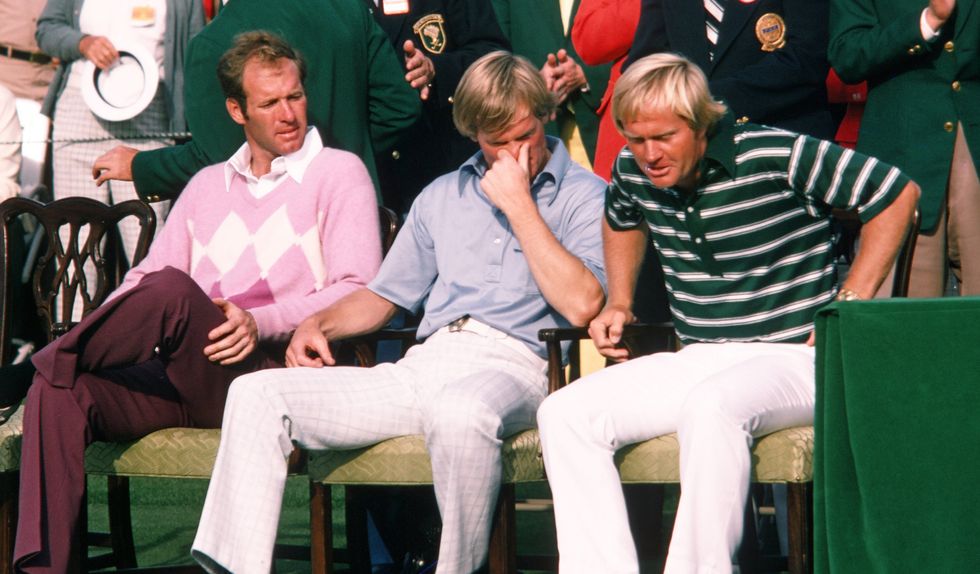 Photo Credit: Augusta National / Getty Images
For all of you who know the story of "Tin Cup", you surely remember Roy McAvoy (Kevin Costner) demanding another ball to hit. He was down to his last ball in the bag, but knew he could hit the shot and managed to hole out for a 12.
Now you would think that movie's embellish stories and that this would never happen in real life - WRONG. 
In Tom Weiskopf's first round of the 1980 Masters Tournament, he left his first shot short of the green on 12 and ended up in the water. He then chose to hit from the drop zone about 60 yards out - where he hit five more balls into the water before finally hitting the green. Weiskopf finished with a memorable 13 on the shortest par 3 on the course. Not all memories are good memories!
Author: Christian Anderson